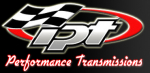 Your cart is currently empty
AB60E / AB60F Upgraded Performance Transmission, 5.7 Tundra, LX570 etc
Price:
0.00
$5575.00
$5175.00
Tundra, Sequoia, Land Cruiser, LX570 Upgraded high performance automatic transmission.
IPT Performance brings you the industry's finest high performance transmissions. Our state of the art package of modifications produce the strongest and most reliable gearbox available anywhere. This is the ultimate Tundra performance transmission upgrade!
At IPT we address the inherent weaknesses and engineering flaws that are present in all factory designed transmissions through the utilization of various metallurgical treatments, valve body and pump modifications/porting, the utilization of upgraded friction material and the increase in capacity of transmission multi-disk clutch packs and bands. (Please contact us for details specific to your application).
The end result is a transmission that provides you with worry free operation under the additional stress that is associated with any high performance application.
Supercharged Tundras and LX570
Increased Horsepower / Performance Applications
Heavy Duty and Towing Applications
Tested at 1000+ Horsepower
Tested in Extreme Conditions
Additional Toyota AB60E / AB60F Performance Transmission info:
Important for 2007-2009 models: T-SB-0170-09
Please call or email us to order complete transmissions.
1.973.406.7000 (US and International) 1.866.828.7267 (Toll Free)
Currently there are no reviews for this product. Share your opinion with others, be the first to write a review.